Federal Employer Identification Number (EIN) / Tax ID Number
Understanding What, Where, When & Hows of Your Business EIN
(Employer Identification Number) EIN Number
SS4 is the IRS form required to obtain an EIN Number (Employer Identification Number, often called Tax ID Number). The EIN Number/Tax ID number can be considered a Social Security number for your business. This usually requires opening a bank account in the name of the business and appropriate payments and accounts for any salary/payroll employees in your company. The StartUSACompany will receive your federal EIN Number electronically and return it to you via email within one business day.
What is an Employer Identification Number (EIN)?
Also known as a "tax ID number," an EIN Number is a business federal tax ID that acts like the Social Security number for your business. Your EIN Number helps you file tax returns for your business, usually requiring you to open a business bank account under your business name, properly pay and account for salaries and payroll for your company's employees. Helps in, and otherwise establish credit for, your business. and as a legal business entity
Do You Need a Federal EIN for Your Business Entity?
In general, unless your business is a sole proprietorship with employees and there is no separate legal entity for your business, you need to obtain an EIN Number. Sometimes if you own an LLC and it's a single-member LLC with simple accounting, you can get it by using your personal Social Security number for tax purposes and to receive payments from customers. But even the simplest businesses can generally benefit from using an EIN Number.
"The Following Business Entities Should Get an EIN:
Partnerships: an EIN is required for all general partnerships and limited partnerships.
Multiple-member LLCs: This type of business entity needs an EIN regardless of whether you have employees.
Single-member LLCs: If you plan to hire employees within the next 12 months, you will need to obtain an EIN. And even if your single-member LLC doesn't have any employees, and even though you can get by using your personal Social Security number for tax purposes, it's still a good idea to get an EIN because Many banks and lenders will prefer to use an EIN to do business with you.
LLC is taxed as a corporation: If your LLC chooses to be taxed as a corporation (for example, by electing to be treated as an S-corporation for tax purposes), you will receive an EIN. will need to do.
Sole Proprietorship with Employees: Even if you don't have an LLC or another legal entity for your business and you run a simple sole proprietorship, you still need to get an EIN if you have employees or for the next 12 months. plans to hire employees. ,
Where & When You'll
Use an EIN Number
Your EIN is required for many situations in running your business. You will need to use your EIN Number for certain tax forms, such as filing your tax return for your business, filling out W9 forms for customers (if you run a service business), and other forms related to managing payroll for your employees. Your EIN Number is also required to set up a business bank account and apply for a business loan. There are similar reasons for needing a Social Security number in your personal life as well as for using an EIN in managing your business.
How Do You Get an EIN? Apply for an EIN Number Online
Business owners can obtain an EIN by filing IRS Form SS-4. StartUSACompany provides a convenient service to help you apply for an EIN online to obtain your EIN number quickly and efficiently. If you are looking for a way to obtain an EIN Number, whether in Texas, Florida, Michigan, or anywhere in the United States, the StartUSACompany can provide one for you in a day. Apply for an EIN online with StartUSACompany, and we will receive your federal tax ID electronically and return your new EIN to you via email within one business day.
Help Obtain a EIN Number /
Tax ID Number
Save your time. We'll handle the paperwork.
If you would like to use our services to facilitate the filing of your Tax ID / EIN Number, please place the order and a representative of the StartUSACompany will contact you to complete and file the Tax ID / EIN Number in the event of your formation. will receive the specific information required.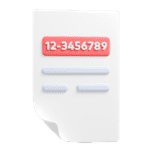 FAQ
Common questions about obtaining an EIN / Tax ID Number
Don't just take our word
Our Clients Speak for Us

Excellent service, as well as a kind and competent personnel. They promised to complete a task in one month, but they completed it in 15 days and are really supportive at an inexpensive price. They set up my LLC firm on the same day and cleared all of my worries before doing so, then they provided me an EIN number within a week, then access to my US business bank account within 3 days, and last, they offered me a payment gateway solution. If I were to characterise this firm in a single word, I would say it is a one-stop shop.

We'd like to take a minute to express our gratitude for selecting StartUSACompany to establish our presence in the United States. The services provided to us were quite unique, and the procedure was not just smooth but also much faster. Mr Rakesh was always available to answer our questions, whether it was at midday, in the evening, or after midnight. They do a brilliant job giving amazing service. They get 5 stars everywhere!

Rakesh has been in frequent contact with me and has remained cool throughout the process. He was always willing to help. He provided an outline of the aforementioned procedure. We took it slowly at first. He also made certain that we were at ease throughout the procedure. He also promised to provide everything on schedule. We appreciate all of your assistance.

They handled everything. LLC, EIN, and ultimately a bank account in the United States. The service is fantastic, really prompt, and reassuring. Everything was done ahead of schedule. I looked at other service providers who charge four times as much and have poor service quality and a lengthy delivery time. Highly recommended for business owners.
Excellent customer service and assistance. The best service for incorporating a business in the United States. Rakesh Sir is a very humble and helpful individual. Helped us throughout the incorporation process. A really helpful crew. Thank you very much.